FLDC13 T-shirt & Florida Drupal Polo Shirts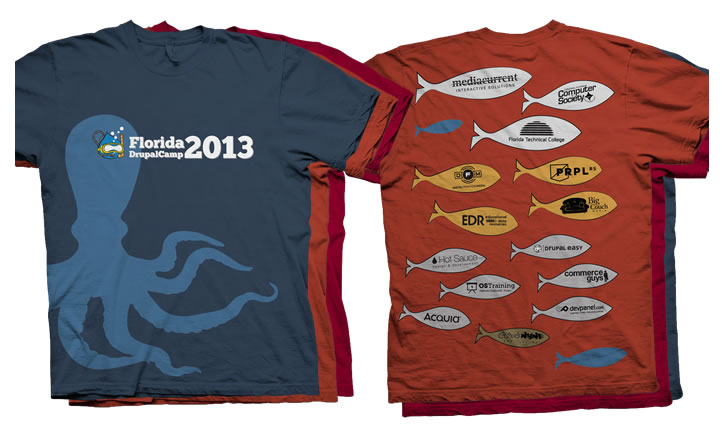 The Florida Drupal Camp 2013 t-shirt designs have been finalized!
Do you want the hottest, hippest new Drupal tshirt? Sign up for Florida DrupalCamp 2013. Each FLDC attendee will recieve one t-shirt, the cost is included in the registration price.
These fashionable Drupal T's were designed by Florida resident (but Kiwi native), Roland Riddell (@r0ls on Twitter). Roland has been doing design for over 5 years, and has been working with Drupal for over 3. His favorite part of Drupal is "fusion of creative & technical."
Register today and reserve your soon to be coveted, classic Drupalcamp T-shirt. FLDC13 T-shirts are available in Small, Medium, Large, Xtra Large, XXL, 3XL, 4XL, and 5XL.
Florida Drupal Polo Shirt are also available!
In addition, we have a limited supply of navy blue Florida Drupal polo shirts. These will be available for sale at the registration desk for $20 a piece. (For simplicity, the registration desk will only accept cash.) A a limited quantity will be available at the registration desk. However, you can order them on-line and they will be shipped to you after the conference is over. The available size are:
Women's Small
Women's Extra Large
Men's Medium
Men's Large
Men's Extra Large
Men's Double Extra Large
If a size is not listed, it is because the company did not offer that size. Below is a picture of the Florida Drupal Polo shirt.